62.745 Anfragen

So finden Sie die richtige Schule
Global Sport Education - Sport College - International Elite Sport Boarding School
Sportschule , Sportgymnasium und Sportinternat (ab 14 bis 19 Jahre)
Telefon:
+41 41 921 01 85 oder +41 78 698 22 24
Schulart:
Maturitätsschule
(Ganztagesschule, Internat)
Schulzweige:
Switzerland: Campus Sempachersee, Crans – Montana, Lausanne
Spain: Campus Barcelona, Campus Sevilla/Andalucia
Cyprus: Campus Paphos-Limassol
USA: Campus St. Petersburg-Tampa/Florida
Australia: Campus Gold Coast
Russia: Campus Crimea
UAE: Campus Dubai
Sekretariat:
Schüler:
Insgesamt: 200
Männlich: 100
Weiblich: 100
Gründungsjahr:
Fremdsprachen:
Deutsch > Englisch > Französisch
weitere:
Bilingualer
Zweig:
deutsch-englisch
deutsch-französisch
Förder-
maßnahmen:
Einzelbetreuung
Gruppennachhilfe
Hausaufgabenkontrolle
Psychologische Betreuung
Freizeitaktivitäten:
Kultur:
Diskussionen
Exkursionen
Film
Journalismus
Lesekreis
Lesungen
Geschiche / Museen
Theaterbesuche
Theatergruppe
Musik:
Chor
Gitarrengruppe
Instrumentalunterricht
Kammermusik
Konzerte
Orchester
Schulband
Tanz
Vokalunterricht
Kunst:
Ausstellungen
Basteln
Bildhauerei
Druck / Lithographie
Film und Video
Fotolabor
Grafikkurse
Malerei
Schneiderei
Schreinerei
Toepferei
Werkstatt
Zeichnen
Sonstiges:
Astronomie
Backen
Billard
Computer
Erste Hilfe Kurse
Gärtnerei
Internet-cafe
Kochen
Politik
Psychologie
Schach
Schülerzeitung
Sozialdienste
Spiele
Umweltaktionen
Wasserwacht
weitere:
Turniere und Auslandsreise
Sportarten:
Ballsportarten:
Basketball
Fussball
Golf
Tennis
Wassersportarten:
Rudern
Schwimmen
Segeln
Surfen
Windsurfen
Wintersportarten:
Eishockey
Langlaufen
Schlittschuhlaufen
Skilaufen
Snowboarden
Sonstige:
Ballet/Jazztanz
Fitnesstraining
Gymnastik
Leichtathletik
Reiten
Eliteschuleleistung
Nutzen Sie unseren
kostenlosen Service
und fordern Sie
Informationsmaterial bei dieser Schule an.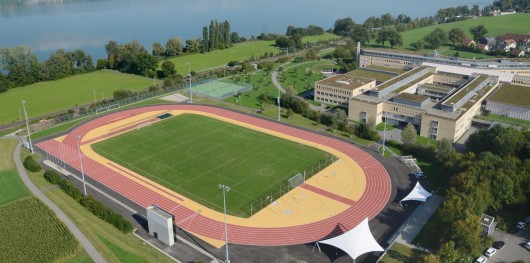 Internat für Jungen und Mädchen
(200 Plätze)
Beschreibung des Internats:
ABOUT US

Our College wants to create the right conditions so that every child can have an optimal sports program and optimal learning surroundings, so that individual abilities can be directly promoted in order to facilitate a successful future. The cooperation with sports associations and other organisations in the area of Art, Music, Humanities and Natural sciences is particularly promoted in addition to the sport. Our aim is to promote self-confidence, keen on sport, independent, peaceful, optimistic and innovative personalities responsible to society, capable of teamwork by our programme and our offerings which can put new accents on society and also can make a contribution to peace and positive world progress.
Pädagogisches Konzept:
The College & Professional Athlete Training Program at ITM Elite Sport Boarding School, Golf Sport College is designed to help athletes at the top of their game reach their goals faster.

Our team of coaches, performance specialists and athletic trainers, many of whom played or coached at the professional and collegiate level, develop fully customizable plans to meet every athlete's individual goals.

Gymnasium/ Maturitätsvorbereitungsschule.
SWISS CURRICULUM

-Swiss curriculum (in German and French) is for students (14- 18 +year) who would like above average achievements scholastically, or in Sport, Music, Dance, Science or Linguistics. A detailed education will be provided in Sport, Mathematics, Natural sciences, Humanities and Social sciences, art and artistic fields as well as linguistic focused activities. The lessons take place either in age-mixed or in your classes.
If one requires parallel to a sport career an academic occupation, we can also offer study at a College or University. In High School, one will prepare for all courses of studies taken at Universities and Colleges.

— Vocational education and training (VET):Three- or four-year VET programme with Federal VET Diploma.

RUSSIAN CURRICULUM

The curriculum of the Russian Federation is for children from 14 to 18+ years (in Russian).
This curriculum is planned for the school year 2017/2018 and has the following advantages-
Access to all universities and colleges of the Russian Federation;
Deepening the knowledge of Russian history, language, culture, natural sciences.

The International Baccalaureate® (IB) Diploma Programme (DP) is for students aged 16-19( in English).

SPORT HIGH PERFORMANCE PROGRAM

• 3-6 days of sports training incl. tournaments (10 hrs to 40 hrs per week);
• Individual support (physical, technical, mental);
• Private lessons;
• Group teaching;
• Analysis;
• Career management;
• Tournament coaching and management;
• Fitness program;
• Travel to Europe, Australia, Asia, UAE, Russia, USA.

Beiträge (Internat):
Individuelle Offerte
ALL-INCLUSIVE

With lodging, nutritionist-customized meals, world-class facilities and top performance experts all on one campus-
ITM Elite Sport Boarding School allows you to focus on your training.
Switzerland:
Campus Sempachersee, Crans – Montana, Lausanne
Spain:
Campus Barcelona, Campus Sevilla/Andalucia
Cyprus:
Campus Paphos-Limassol
Australia:
Campus Gold Coast
Russia:
Campus Crimea
Campus Moskow
Campus St. Petersburg
UAE:
Campus Dubai

MAKE AN APPOINTMENT AND VISIT OUR SCHOOL!

APPLY NOW FOR SCHOOL YEAR 2017/2018!

CONTACT US:

OFFICE: BAHNHOFSTRASSE 10, CH- 8001 ZÜRICH

TEL: +41 (0) 43 456 26 45; TEL: +41 (0) 78 698 22 24

EMAIL: ADMIN@SPORT-COLLEGE-GLOBAL.EDUCATION
Letzte Aktualisierung
01.05.2017
1) Ergebnis unserer Kundenumfrage vom Januar 2016
© Copyright 2017 schweiz.privatschulberatung.com. Alle Rechte vorbehalten. -
Impressum
&nbsp